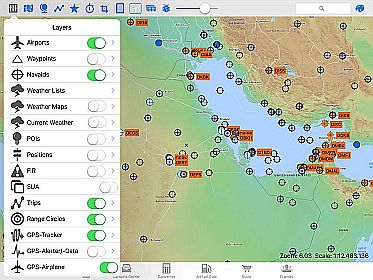 We have 16 different layers (Airports, Waypoints, Navaids, POI´s, Positions, FIR-borders, SUA (Special use airspace - pict. below), Trips, Range & ETOPS-circles, GPS-tracker, Favorites, Notes, Images, Compass, Time zones and Labels. Many of this layers you can adjust by yourself.


You can switch/adjust in 3 different airport-classes (International, Regional and Airdrome, pict. below) and you can adjust the min and max. runway length (by clicking the "Scale"-button you can switch between feet ant meters.




The waypoints are classified in 3 different types (Enroute-Wp, Navaid-Enroute-Wp and Terminal-WP, pict below). With the slider "min-zoom" you can decide at which zoom-level in the App the waypoints are shown up.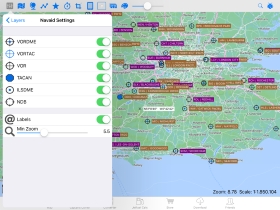 The Navaids are classified in 6 different types (VORDME, VORTAC, VOR, TACAN, ILSDME and NDB, pict. below). You can switch on/ off each single Navaid with or without labels (using the Labels-button "on/ off"). Here you also have the possibility to select the zoom-level to show or hide the Navaids.


In the POI-layer we have 8 different types of points of interest (Bridges, Buildings/Towers, Glacier, Dams/ Lakes, Landmarks/ Nature parks, Mountains/ Peaks, Race Tracks/ Stadiums and Volcano's. As descibes before you can switch on/ off every single POI, with or without the Label (name).











In the map POI´s are showed with a colored marker, when you click on this marker you´ll get further information's (a Google-link, the type of this POI, the elevation, the Wikipedia-link/ URL, Pict below) and when you click on "show comment" you´ll get the information about this POI.